We're all about easy camping and amazing memories
Modcon Campers is proud to be a family owned business. It was started by Phyllis and Kerry Jones who both grew up in the Riverina region of NSW surrounded by farmland and wheat fields. After school, Kerry went onto agricultural college and then on to the CSIRO. Kerry and Phyllis had two daughters – Kellie and Toni.
The Jones family wanted to ensure that their kids grew up with the same type of surroundings that they had – large open spaces, animals and fresh air. This, combined with their passion for camping, led to many happy family camping trips all across the east coast of Australia.  
In 1996, after 16 years in the Federal Police, Kerry decided that he would get back to his roots. His interest was always in engineering and manufacturing – he was forever tinkering on cars and lawn mowers and tractors. He went into manufacturing on a small scale. It started with welding trailers and then camping trailers and then redesigning the family camper trailer. And he really hasn't stopped since!
After officially founding Modcon around 25 years ago, Kerry has gone on to design, refine and improve hundreds of different camper trailers.  Many of these models have proven to be very successful, particularly the forward fold camper trailers.
Early growth
By 2001, Modcon Campers expanded and the business moved into a commercial premise in Veronica Street, Capalaba.  This allowed Modcon to have a customer outlet and a work shed with a mezzanine for canvas work to be completed. 
Due to popular demand and a growing interest in the market for an easier way to go camping, Modcon Campers developed a full range of seven different types of soft floor camper trailer.  This meant an expansion of the production area was required with another 300 sqm manufacturing shed. They purchased their own heavy equipment such as benders, guillotines, welders and other fabrication equipment. The original building was used as a showroom and for canvas production with up to 5 canvas sewers working daily.  
With Kerry's interest in design and improvement in manufacturing, the range grew from soft floor camper trailers to hard floor rear fold camper trailers to forward fold camper trailers over the next 10 years.  Modcon focused on manufacturing custom designed camper trailers to suit each of their customers needs. Designs were influenced by their own travel experiences, as all as the experiences of their customers. The Modcon Family had grown significantly. Their trailers were not only being sold by their staff but by the customers who loved to travel with them.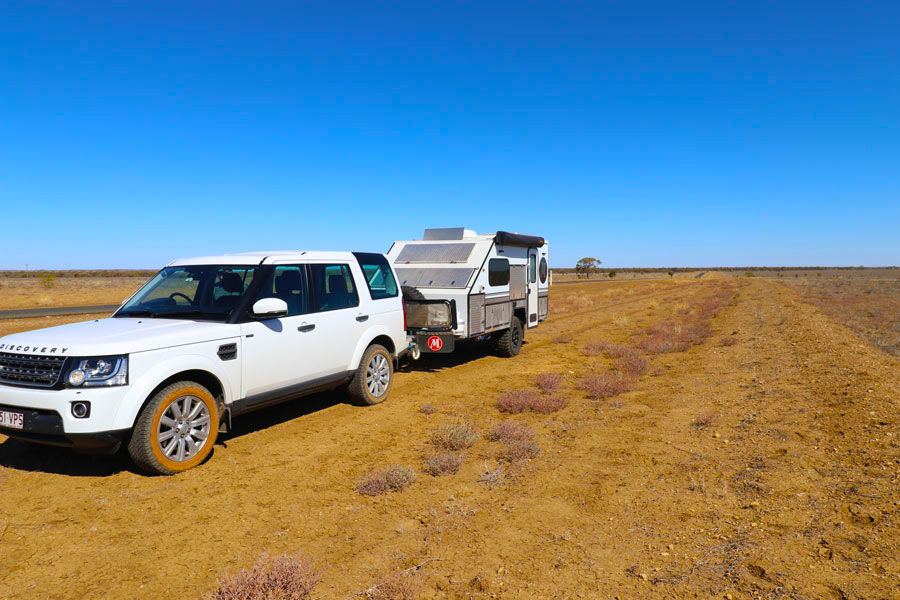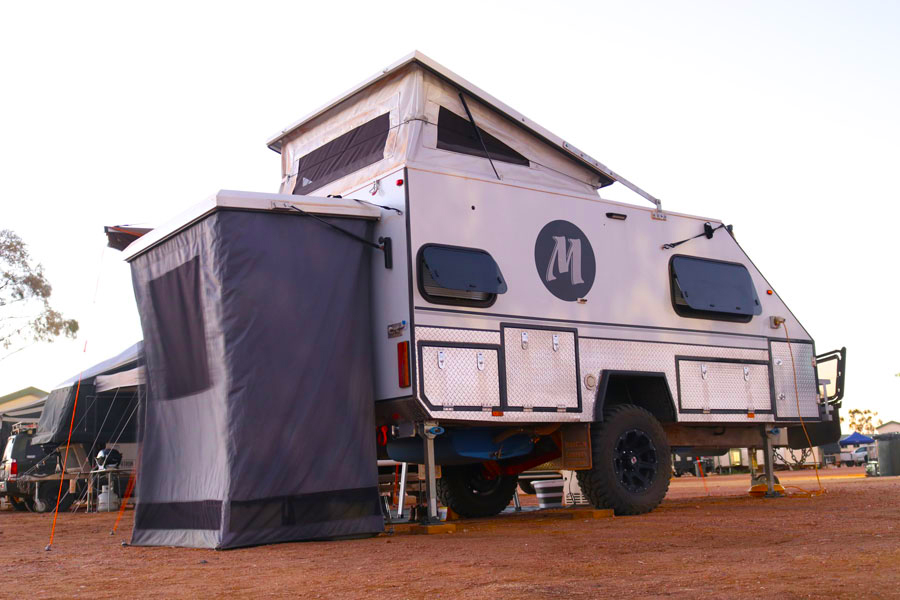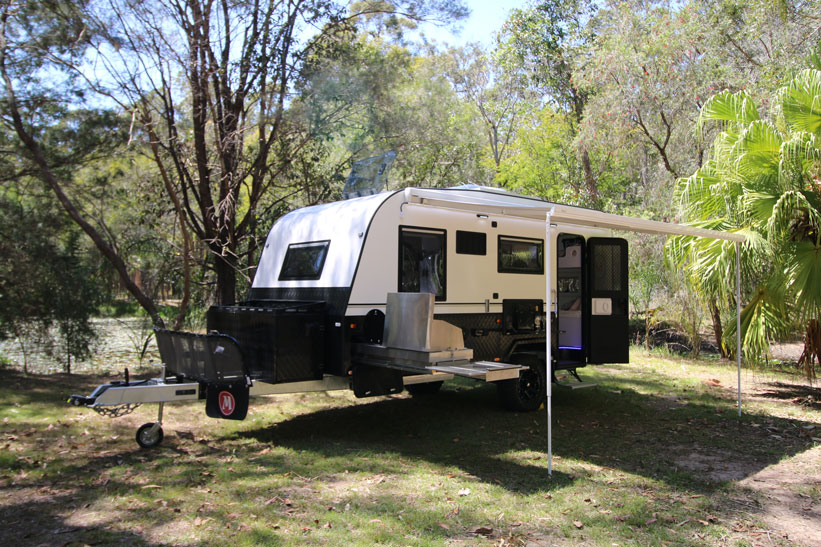 Signs of change
Over the years, the love of camping continued to grow in Australia. Soon, Brisbane had the second largest camping trade show in the world.  This brought a lot of commercial interest into the camping industry and a lot of new brands.  Due to the increase in sophistication of customer requirements and the demand for touring products in Australia, campers were now coming with large water carrying capacities, full stainless-steel kitchens, fridge boxes, hot water systems, double spare wheels, innerspring mattresses and a lot of the creature comforts from home.  
Camper trailers now offered people a way to go camping comfortably and see all the sights that this beautiful country offers.
By 2011, they were still purchasing all manufactured components from Australian suppliers and fabricating in-house from beginning to end.  Modcon would customise each individual camper to suit the customer.  This was a fairly expensive process and Modcon was finding it hard to compete. More and more brands in the industry had begun to either purchase components from overseas or were opting to manufacture entirely overseas in order to cut costs. While their campers were a superior product to the imported forward fold competitors on the market at the time, they were double the price.  A very hard justification for the average buyer.  
Kerry and Phyllis had to make a decision at this point.  Do they close Modcon Campers or do they look at other manufacturing techniques? 
Kerry and Phyllis made their first trip to China to investigate options.  Like most of their competitors, one of the options was to purchase from a large Chinese camper trailer factory.  These campers were stock standard designs and offered minimal customisation by allowing you to badge it as your own, effectively to 'buy off the shelf'.  
The other option was a longer development option and it was unfortunately the slower more expensive option, and that was to produce in China.  This meant establishing a relationship with a factory that made their products exclusively for Modcon Campers. They would have to hand over their designs and drawings to a company and step them through the manufacturing process to ensure they got the end product they wanted.  Obviously ensuring this information wasn't shared with the large production companies was critical. Modcon wanted to keep years of research and development exclusive to the brand.  
For Kerry and Phyllis, the decision was an easy one. It was the second option.  Modcon Campers had an excellent reputation and had been developed over 15 years at this point.  They weren't going to lose it.  A number of factories were contacted and some associations were attempted.  Problems were quickly identified with either quality control or the lack of security for intellectual property. 
Eventually a small factory was found with the ability to adapt to Modcon's requirements. This factory was happy to develop products using a mixture of Kerry and Phyllis's and their own ideas.  This meant building Modcon's designs, adopting their manufacturing methods as well as changing their workshop management systems. This same factory is the mainstay of Modcon's overseas operations, though it has changed considerably for the better over the years. 
For a time, Australian production continued and they were producing campers both in Australia and internationally as Modcon International. It took less than 12 months before the Australian produced product was no longer in demand in the market.  This happened for a number of reasons, mainly because the Australian produced product was double the price and had less features.  
The Modcon International factory had enabled Modcon Campers to produce an exceptional product. Access to better facilities, better engineering techniques and a larger selection of skills and components enabled Modcon to implement far more of their individual design concepts. When they were still manufacturing in Australia, it had become apparent to them that even though they were purchasing components in Australia and paying a premium for them, the components were actually sourced from overseas anyway.  In many cases, these Australian sourced products were of lesser quality simply because the original importer was not buying the better quality items. Now that international manufacturing was sorted, Modcon had full access to a huge range of high quality yet affordable accessories and products.

Modcon today 
The Modcon range combines products from all over the world to make a unique product that suits the Australian market with quality, longevity and ease of use in mind. Some examples are the main body of the camper being fabricated in China, the stoves from the UK and the diesel heating systems and hot water systems being produced locally. Many components are still purchased in Australia from Australian owned companies.  In today's manufacturing and fabrication industry, the secret is to source the best components, regardless of where they come from. 
Modcon is not only run by the Jones Family but also the extended ModCon Family.  They have 15 employees who all contribute to the production of each camper, plus feedback from the large Modcon customer base ensures constant improvement.
Each camper spends three weeks undergoing assembly, fitting out and testing before being handed over to a new Modcon owner.  It will go through five departments to ensure the quality control is checked at every point, including the undercarriage, electrical, external fit out and internal fit out. The camper is then moved to pre delivery where the actual sales people you speak with go over the camper to prepare for handover.
A comprehensive 'handover procedure' is carried out by Modcon staff at delivery time.  Modcon endeavours to ensure all owners have a complete knowledge of their new purchase.
Modcon ensures that continued innovation occurs with their models as well as new models being released.  Their customers are invaluable in identifying possible improvements or limitations in the ModCon range.  This feedback ensures all models are fine tuned to maximum efficiency and quality.  
Our driving goal is to ensure every Modcon customer enjoys the easiest possible camping experience when they hit the road with one of our campers and to make amazing memories on every single trip.
Are you ready to make tracks?
Get in touch with Modcon today to be a part of the Modcon story too. Click here to take the first step in your next adventure.