The off road adventure of a camper trailer with the comforts of a caravan
Hybrid camper trailers (sometimes referred to as hybrid caravans) combine the convenience of a caravan with the outdoor lifestyle and go anywhere capability of a camper trailer. They are becoming increasingly popular with adventurous Aussie travellers who want to go remote with all the creature comforts of home.
Not only do hybrid camper trailers have the off-road credentials to get to isolated secret camping spots, they also have the ability to stay there for extended periods of time due to their on-board water and power capacities. With a smaller footprint compared to a caravan, they can fit in the smallest of sites, from the caravan park to the beach.  Hybrid campers provide all the durability, comfort and convenience you'll need to take you wherever your adventures might send you.
A well designed and constructed hybrid camper trailer will be compact and robust enough to go just about anywhere, from narrow sand tracks to corrugated roads in the centre of Australia. Most off road hybrids have independent trailing arm suspensions which can withstand travelling over rugged terrain in remote areas.  
Hybrids campers are perfect for those wanting a more authentic camping experience in the great outdoors. With a slide out external kitchen, you still get to enjoy the social aspects of communal cooking when travelling with others. To further enhance the cooking experience, many hybrids come with beautifully designed stainless steel kitchens with a well appointed pantry within easy reach. External kitchens also keep cooking smells outside of the internal living area.
Solid walls allow luxury items such as air conditioning to be effective and make those thirty plus degree days very comfortable. There are many optional extras available with hybrid camper trailers such as running hot water to your sink and shower, roof mounted solar panels, bunk beds for the kids and even an internal ensuite. The level to which you want to customise your hybrid camper trailer all comes down to how you want to enjoy your off road adventures.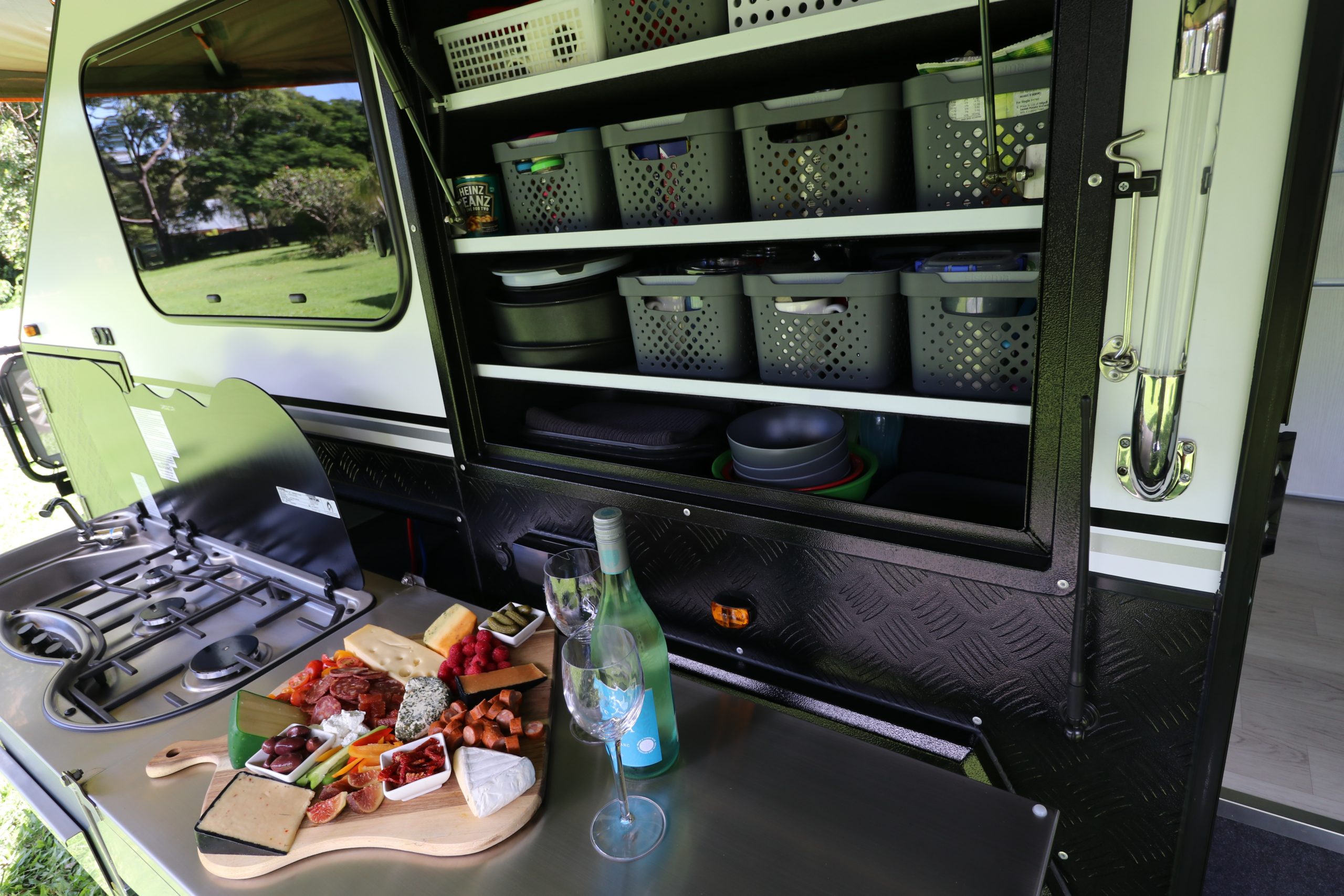 The main differences between hybrid camper trailers and traditional caravans
Quality hybrids are generally associated with the ability to go 'completely off-road'. Most caravan models are too wide and heavy to be towed in certain environments. A well designed and constructed hybrid will be compact and robust enough to go pretty much anywhere
With water and power systems designed for self sufficiency, hybrids can travel independently to areas such as national parks, free camps, beach camping, private properties and the open areas of caravan parks.
Hybrid camper trailers

have external 'slide out' communal kitchens, unlike most caravans which have smaller internal kitchens.
Hybrids are narrower and therefore more closely follow the wheel tracks of your vehicle, reducing drag and the potential to get bogged, especially in sand.

  
Building techniques are different with good hybrids. A high quality hybrid will be a lot stronger and is designed for tougher terrain than a standard caravan, enabling you to go further and be limitless in your destinations. The frame and panelling of hybrids are designed to withstand the rigours of rough movement when travelling on harsh terrain while caravans are designed to optimise space rather than weight necessitating a lighter and therefore less durable frame and chassis.
6 quick benefits of travelling with a hybrid camper trailer
There are many great advantages to hybrids – too many to list here! Here's just some. 
Fast set up and pack down which can usually be done by just one person. Perfect for touring and one night stays and are comfortably fitted out for those long stays.  
Hybrids are great for those wanting to venture further! You are not limited to caravan parks and roads designed for caravans.  
A more authentic camping experience in the great outdoors. With the slide out external kitchen, you still get to enjoy the social aspects of communal cooking when travelling with others. Plus, cooking smells are kept outside!
Because hybrids are compact, they sit perfectly in the slip stream of the tow vehicle on the highway and are less vulnerable to being buffeted by cross winds and passing heavy vehicles, reducing fuel costs and making for stress free towing. They also follow easily behind the tow vehicle along bush tracks, allowing you to to get to that perfect campsite. 
They can effectively run air conditioning systems for those hot summer nights and have beds to suit your family size.  
Hybrids can fit on pretty much any sized campsite – whether it's in a national park, private property or a caravan park.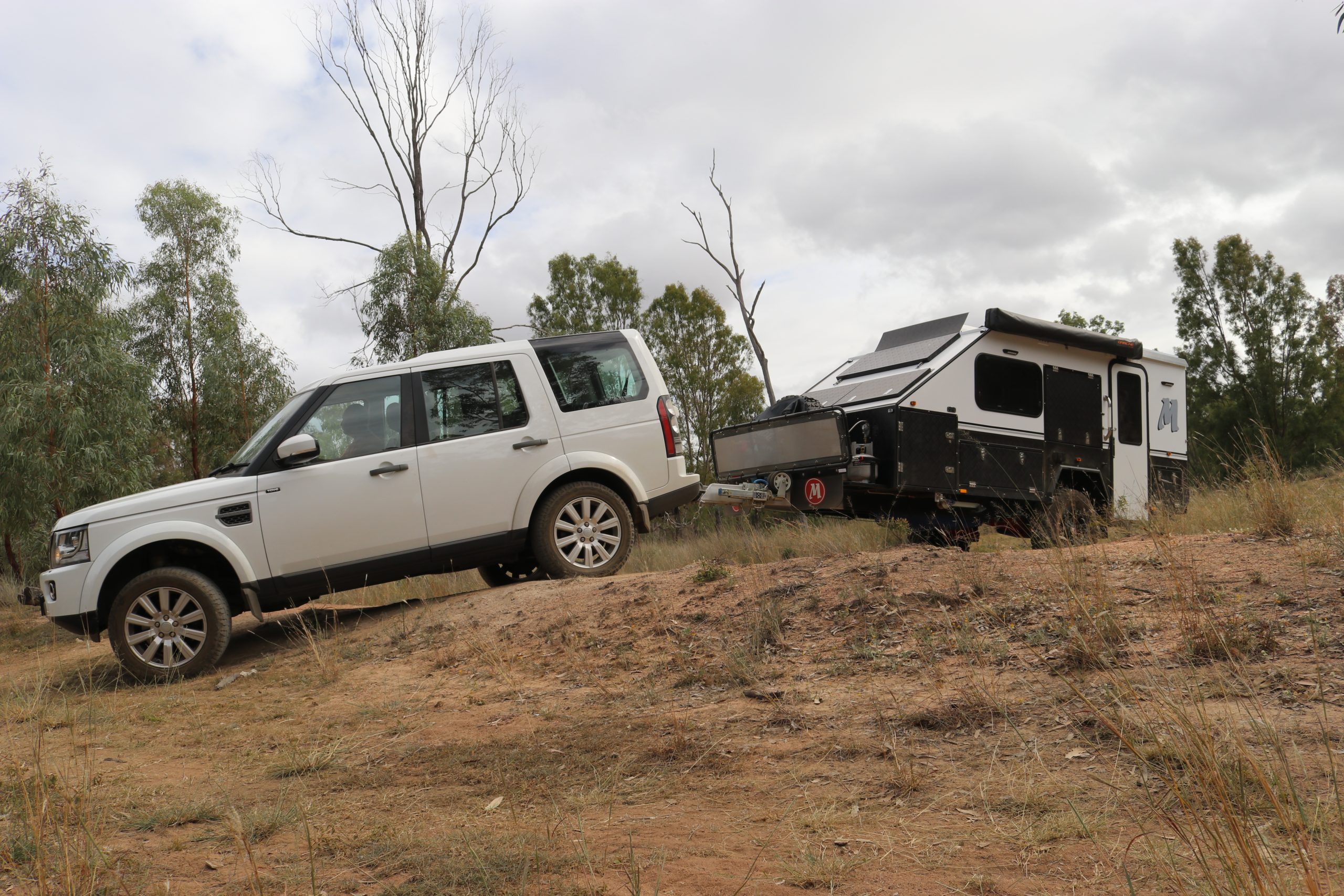 Not all hybrid campers are created equal.  Let's look at off road capability and build structure.
A lot of engineering goes into ensuring that a hybrid camper trailer can be truly classified as 'off road'. However there are no industry standards to quantify what is required. Some of the key features are high ground clearance and decent approach and departure angles allowing navigation of challenging terrain such as steep wash outs and difficult creek crossings.
The suspension on the trailer is incredibly important. The more robust hybrid campers often feature dual shock absorbers, strong suspension arms and coil springs.
The overall dimensions of a van determine its 'bushability'. Hybrid camper trailers are designed to avoid getting stuck or caught up and to maintain a good line when traversing difficult obstacles. Narrower than caravans, they are designed to have the wheels follow in the same track as the tow vehicle, this lessens drag, allowing you to camp in places that you would not be able to take a caravan.
High quality hybrids will include strength in all aspects of the manufacturing process. Furniture is usually made of higher end materials such as fibreglass and aluminium. Fridge and drawer slides are bolted or riveted to metal rather than the traditional timber or MDF (Medium Density Fibreboard).
Wiring and plumbing is secured as high as possible against the chassis to protect against getting snagged or damaged by stones on off road tracks and gravel roads. Likewise gas struts, hinges and accessories are attached to structural, metal members to withstand the unrelenting vibrations of corrugations.
Browse our range of robust off-road hybrid camper trailers
Ready to make tracks? Talk to the ModCon team today
Our range of hybrid campers are engineered to withstand all the harsh conditions our beautiful Australian landscape has to offer, while giving you a comfortable, trouble-free camping experience. They are perfect for grey nomads, young families and couples alike.
If you'd like to see the level of quality you can expect from ModCon for yourself, just click here to find your nearest showroom. We'd love for you to stop by.