C3 HYBRID OFF ROAD CAMPER TRAILER
With a payload of 700kg, the C3 provides a gear carrying capability for all your family's toys.
C3 Hybrid - Standard Inclusions/Price
C3 HYBRID
$44,990
INSIDE
Sleeping for four, Queen size innerspring mattress and two bunk beds (1850mm x 650mm.)
Dedicated Storage: 1645L. Please note, this does not include on top of or beside the bed or on the floor area

.
Mega storage, rear and centre full width lockers, unique chemical toilet storage accessible from inside and out.
Clam shell lid pops up for spacious and airy internal living. Easy one person opening.
TV/Media screen and speakers.
OUTSIDE
Superb chef's outside kitchen with Thetford 3 burners and sink, flip over bench and massive pantry.
Swing around 270° awning.

 Fully covers kitchen area including fridge.
LED lighting on both sides.
Full composite aluminium body for light weight, strength and corrosion resistance.
Fully insulated with polystyrene.
Steel chassis for strength, hot dipped galvanised for longevity.
Off road suspension designed by Modcon.
Alko off road ball coupling. Ark heavy duty jockey wheel.
ELECTRICAL and WATER
240v Power – 15 amp inlet (external), RCD and 3 x dual socket (internal)
2 x 100 amp/h batteries.
12v switch panel with voltmeter.
2 x 120L water tanks, gauges and water pump.
*Inclusions can change without notice
C3 Hybrid - Options
ELECTRICAL
Redarc

 1230 12v/240v 

Manager 30

 Battery Management System

25 amp Victron IP67 240v Charger hard wired
15 amp Victron 240v Charger with Anderson plug connect

Air Conditioning – 

Bel Air Houghton 2400 –

 

requires 240v power

REFRIGERATION
Evakool TMDZ-80 Travelmate Dual Zone 80L Fridge/Freezer
Evakool TMDZ-95 Travelmate Dual Zone 96L Fridge/Freezer
HOT WATER SYSTEMS
Inbuilt gas hot water system hard plumbed to outside shower and kitchen with flick mixer
MISCELLANEOUS
Cruisemaster DO35 Off Road Coupling
Darche Annex Walls (1 or 2 available)
Swing around table
C3 Hybrid - Specifications
WEIGHTS
TARE: 1700 kg
ATM: 2400 kg
Ball Weight: 170kg
DIMENSIONS
Length: 5.95m
Width (Body): 2.17m
Width (Including Awning): 2.35m
Height: 2.385m, With Air Con: 2.485m
POWER
2 X 100 amp AGM batteries
12v fused switch board
1 x Anderson connector wired to battery
WATER
 2 x 120L tanks
12v water pump
Drawing on the last 20 years of camper trailer manufacturing experience, Modcon have designed and built the ultimate in luxury off road touring, the C3 Hybrid Caravan.
The clam shell lid is an easy one person lift and provides spacious and airy internal living.
The Queen size innerspring mattress is under a 30mm thick roof for noise and thermal insulation. The double bunk beds convert into a huge settee with the click of two catches. (Bunk beds 1860mm x 650mm).
The C3 Hybrid has the internal living and quick set up of a caravan, but the outdoor cooking and lifestyle feel of a camper trailer. Short, light and easy to tow, the C3 can still get you to those out of the way, secret spots, but is equally comfortable set up in a Big 4 with the kids.
Outside everything is within easy reach with an 'L' shaped kitchen. 200L pantry, LED lighting, three burner gas stove and sink, refrigeration all under cover of the 270° awning.
The C3 has an incredible 1716L of usable storage. There are his and hers drawers under the bed for clothes, rear boot storage that is full width of the camper, a 200L pantry at the kitchen and a chemical toilet locker that is conveniently accessible from inside and out.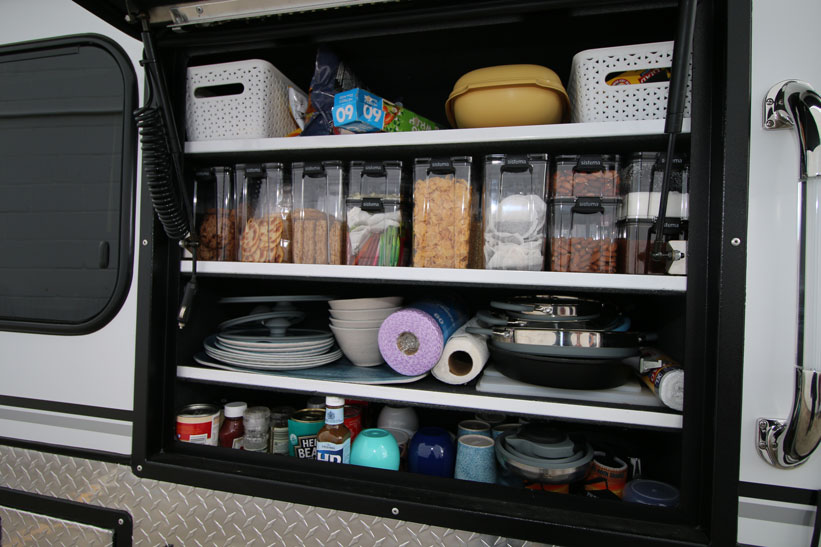 Build Quality and Longevity
The undercarriage is the backbone of any camper trailer, and Modcon's chassis, draw bar and suspension are built to withstand the corrugations and other surprises that lie in wait on Australia's outback roads.
Utilising 20 plus years of  making off road campers, Modcon has placed the entire body of the C Series campers onto the chassis with the drawbar running under the chassis all the way back to the trailing arm suspension hangers. Cross braces further strengthen the draw bar.
The independent trailing arm suspension is also built with Australia's outback roads in mind with dual shock absorbers and heavy duty springs providing a stable and safe ride.
The gas plumbing and electrical wiring is protected and fastened as high as possible along the draw bar and chassis to prevent it from being snagged or damaged by stones. Wiring is further protected by convoluted covering and grommets, and the entire underbody is sealed against dust ingress.
Water tanks are 5mm thick so do not require covers. Covers around water tanks can cause problems if a pebble manages to find its way between cover and tank, eventually nibbling a hole through the tank. A better solution is a tank thick enough to withstand stone damage.
The entire undercarriage is hot dipped galvanised inside and out for rust protection and long life. The chassis and underside is further protected by a rubberised paint making for a camper designed and built to last.