CRUISER 16 ISLAND EXPEDITION SERIES OFF ROAD CARAVAN
The  Cruiser 16 Island is part of Modcon RV's Expedition series with sleeping for up to three.
Utilising the latest RV manufacturing techniques, the walls and roof are made of 30mm thick fibreglass composite panels, providing both strength and excellent insulation but also keeping weight to a minimum.
The light weight construction means we can include all the gear such as a 152L fridge, oven and four burner stove, hot water system, fibreglass shower room, 190L of water, inverter, lithium battery, internal kitchen, spacious dining area and the list goes on. Add the Queen size bed and luxurious ensuite and you have everything you need for fully self supported remote camping.
Despite its compact size, the Cruiser 16 Island is fully equipped for a couple to tour long term or to go on a weekend away without leaving the comforts of home behind. The queen sized island bed faces north/south with plenty of access for couples not to disturb each other's sleep. An extra sleeping area is available for a child when the dining seats are converted into a bed.
The fully equipped kitchen with a 152L fridge, stove, grill and oven with sink and bench will keep everyone fed, and externally a second kitchen area means the cook can be part of outdoor life when creating their masterpieces.
The rear of the van houses a bathroom with a cassette toilet, wash basin and front loading washing machine with a separate shower allowing for two people to use this area at the same time.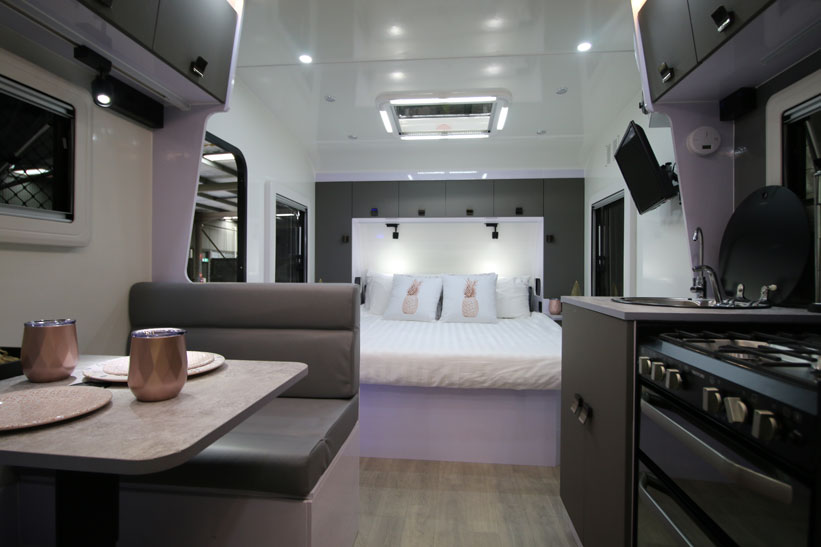 Water and power limit time spent remote, so the Cruiser Series has what it takes to keep you out there longer.
2 x 95L water tanks and a 125L grey water tank allow the water conscious family or couple to extend their stay away from civilisation. Likewise, the 240w LiFePO4 battery and 2 x 100w solar panels on the roof will keep the lights on and the fridge going while your family follows the horizon on that trip of a lifetime.
The electrical system is housed in a dedicated area below the lounge. A 2000w inverter and 70 amp 240v charger round out an impressive electrical set up.
Hot water is provided by a Gas/Electric Truma system. The ensuite is a fibre glass pod construction and the cassette toilet is Thetford.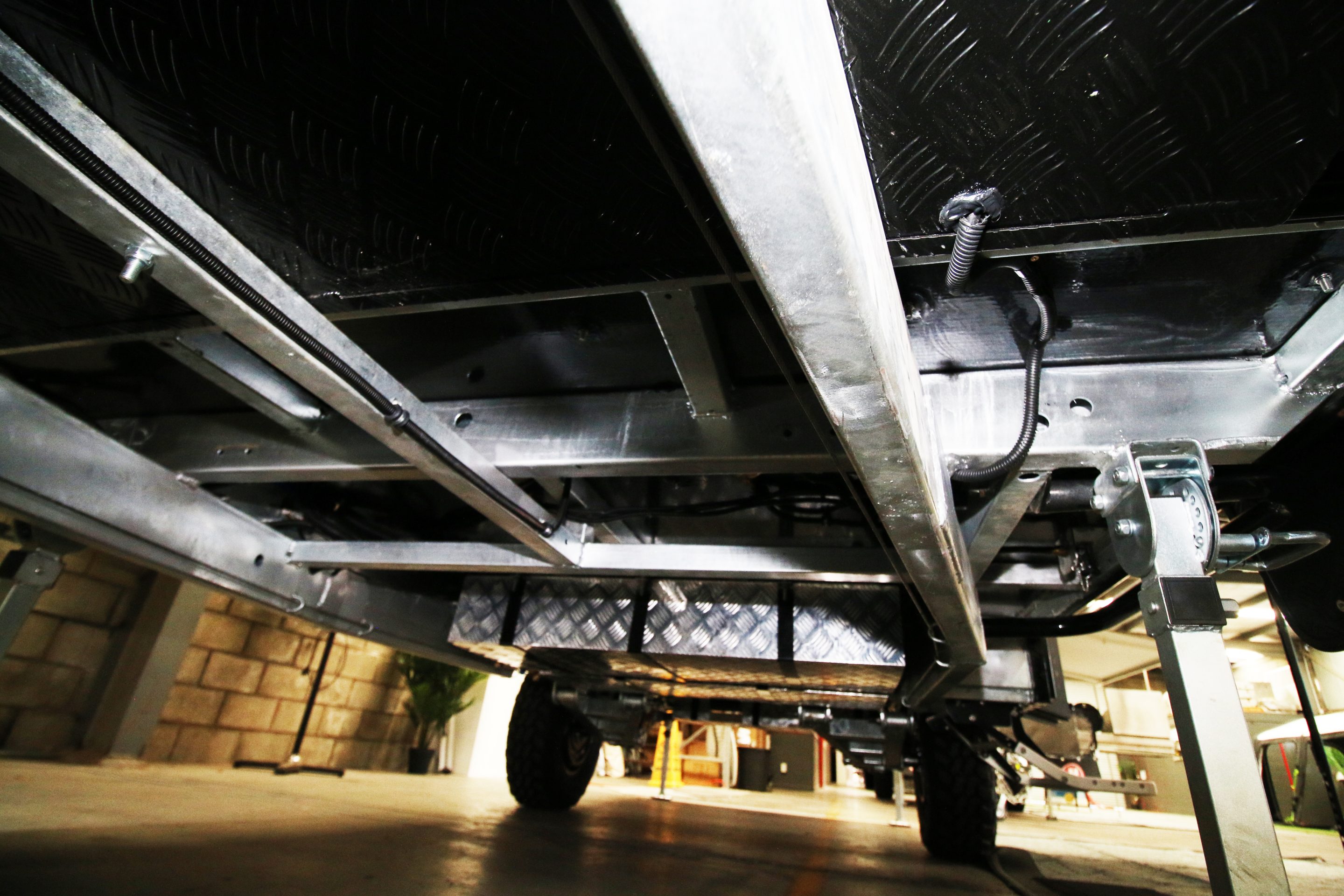 Build Quality and Longevity
The Cruiser Series utilizes the latest composite panel technology to make a strong, light and well insulated caravan. The roof and side walls of the Cruiser 16 is a single piece fibre glass/closed cell foam core composite panel, while the floor is a PVC honeycomb panel designed for impact resistance. Bonded together, they make a monocoque build of excellent strength and thermal rating. The load bearing sections of the roof panel such as the air conditioning mount are further strengthened with aluminium box section bonded into the panel itself.
The whole chassis, draw bar and trailing arm suspension is hot dipped galvanised inside and out, making for an undercarriage that will last.
Modcon RV's Independent Trailing Arm Suspension
Honed by 25 years of off road experience, the Modcon RV independent trailing arm suspension is built to go off the beaten track. The laser cut suspension hangers are 10mm thick and wrap around the chassis cross beam, providing ultimate strength and durability. Likewise the shock absorber mounts are welded to the cross beam top and side. The ladder framework of the trailing arms themselves are of proven design with stiffness and strength far exceeding engineering requirements. Greasable bushes and double shock absorbers finish of a suspension system designed to last for years.
The Cruiser 16 Island has a north/south Queen bed, but has no bunk beds. Instead it has a seperate bathroom and toilet area at the rear of the van.
Cruiser 16 Island –  Gallery
Cruiser 16 | Cruiser 16 Island - Standard Inclusions/Price
Cruiser 16
$75,990
| | | |
| --- | --- | --- |
| Appliances as Standard | Cruiser 16 | Cruiser 16 Island |
| RV Air Conditioner – DOMETIC B320 | ✔ | ✔ |
| RV Stove and grill – THETFORD 3 gas + 1 electric burner | ✔ | ✔ |
| RV Fridge – THETFORD 152L  | ✔ | ✔ |
| Microwave | ✔ | ✔ |
| 24″ LCD TV with TV rack | ✔ | ✔ |
| RV Water Heater – TRUMA 14L | ✔ | ✔ |
| RV Toilet – DOMETIC | ✔ | ✔ |
| Stainless steel 304 slide out kitchen with sink, AGA 4 burner stove | ✔ | ✔ |
| MP3 player | ✔ | ✔ |
| 2 x interior speakers, 1 x exterior waterproof speaker | ✔ | ✔ |
| Toilet ventilator | ✔ | ✔ |
| Bathroom ventilator | ✘ | ✔ |
| Washing machine | ✘ | ✔ |
| CO2 alarm/ Smoke alarm/ Gas alarm | ✔ | ✔ |
| Electrical System | Cruiser 16 | Cruiser 16 Island |
| 240AH LiFePO4 battery | ✔ | ✔ |
| 2000W invertor with 240v smart charger | ✔ | ✔ |
| Solar panels: 100W x 2 | ✔ | ✔ |
| Solar controller: 20A | ✔ | ✔ |
| External Inlet: 240V, 15A | ✔ | ✔ |
| 240V circuit breaker and 12V circuit breaker | ✔ | ✔ |
| 240v, Dual USB/Cig, USB | 6, 4, 1 | 6, 4, 1 |
| External electrical sockets: 240V, USB, Cig | 1, 1, 1 | 1, 1, 1 |
| Water level guages: fresh water level, grey water tank level | ✔ | ✔ |
| 7 pin plug | ✔ | ✔ |
| 50A Anderson plug | ✔ | ✔ |
| Break away | ✔ | ✔ |
| Internal | Cruiser 16 | Cruiser 16 Island |
| Sleep capacity: (table converts to bed for extra person) | 5 | 3 |
| Queen Size Bed: innerspring mattress – east/west | 2100 x 1500mm | ✘ |
| Queen Size Bed: innerspring mattress – island north/south | ✘ | 1900 x 1500mm |
| Sofa Bed | 1805 x 860mm | 1540 x 800mm |
| Bunk Beds | 2100 x 680m | ✘ |
| Dining area seats 4 | 1540 x 800mm | 1540 x 800mm |
| Table: Pneumatic lifting table | ✔ | ✔ |
| Sofa: Grey Genuine Leather sofa | ✔ | ✔ |
| Separate ensuite and toilet | ✔ | ✔ |
| Undercarriage | Cruiser 16 | Cruiser 16 Island |
| Cruismaster DO35 off road hitch | ✔ | ✔ |
| Independent Suspension with springs and shock absorbers | ✔ | ✔ |
| Single axle 60mm | ✔ | ✔ |
| 12" electric brake with hand brake | ✔ | ✔ |
| 16" alloy wheel with 1 x spare wheel 265/75R16 | ✔ | ✔ |
| | | |
| Water | Cruiser 16 | Cruiser 16 Island |
| Water tanks: 2 x 95Ltr | ✔ | ✔ |
| Grey water tanks: 125L | ✔ | ✔ |
| Water heater: Truma 14L gas/electric | ✔ | ✔ |
| Hot and cold water to shower, kitchen and outside shower | ✔ | ✔ |
| Water inlet: Mains connect; External single cold brass faucet | ✔ | ✔ |
| Water filter | ✔ | ✔ |
Cruiser 16 - Options
Additional 100w roof mounted solar panel
Additional LiFePO4
Diesel Space Heater
Extra fan (NCE) 
Dometic Air Pro 330 Inflatable Annex with electric pump
Redarc 1225 BC-DC charger installed including external Anderson connector for solar
Change roll out awning to Fiamma cassette wind out awning
Electronic Sway Control
Cruiser 16 - Specifications
| | | |
| --- | --- | --- |
| Specifications | Cruiser 16 | Cruiser 16 Island |
| Body Length | 4.868m | 4.868m |
| Overall Length | 7.777m | 7.777m |
| Internal Width | 2.134m | 2.134m |
| Width (including awning) | 2.33m | 2.33m |
| Internal Height | 1.96m | 1.96m |
| Height | 3.093m | 3.114m |
| ATM | 2800kg | 2800kg |
| Tare Mass | 2180kg | 2000kg |
| Chassis: Hot dipped galvanised steel | ✔ | ✔ |
| Walls and Roof: Fibreglass closed cell composite panels | ✔ | ✔ |
| Floor: PVC honeycomb panel | ✔ | ✔ |
| Ground clearance | 548m | 548m |